ARIZONA ROUTE 66 IN ORDER FROM EAST TO WEST
Lupton – Houck – Sanders – Chambers – Petrified Forest / Painted Desert – Holbrook – Joseph City – Winslow – Meteor City – Meteor Crater – Winona – Flagstaff – Bellemont – Williams – Ash Fork – Seligman – Grand Canyon Caverns – Peach Springs – Truxton – Crozier – Valentine – Hackberry – Antares – Kingman – Golden Valley – Oatman – Golden Shores – Topock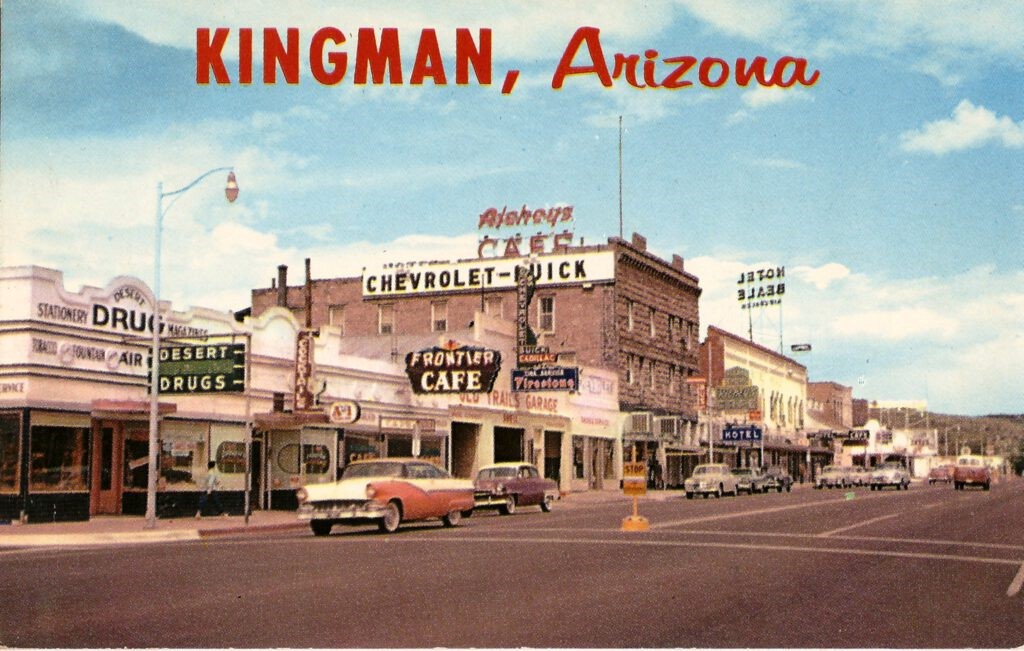 Kingman is often referred to as the "Heart of Route 66". So much history here… It is a wonderful place to stop and explore the Mother Road. Stop in at Mr. D's for a milk shake, then walk across the street to the Powerhouse Route 66 Museum. Spend the night in any one of the many authentic Route 66 motels in the area, and grab breakfast at one of the diners along the way!!!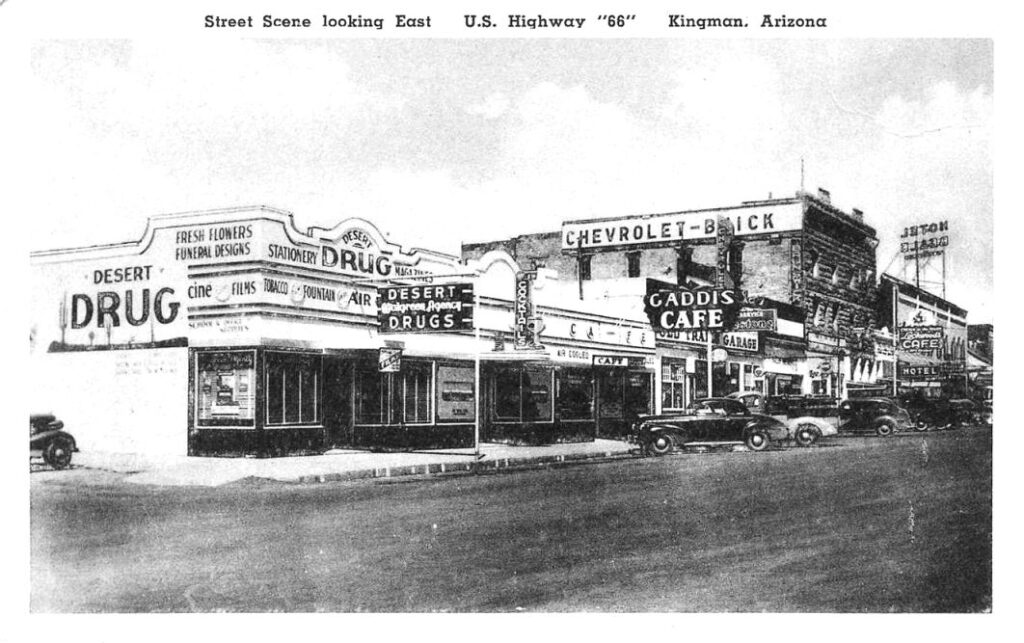 This is the business block between 3rd and 4th Streets, looking east about 1940. Another corner drugstore at 3rd, Eaton's Desert Drug Walgreen Agency, is followed by a cocktail lounge, Gaddis Café, and Old Trails Garage (1915) Chevrolet-Buick dealership, which also sold Signal or Conoco gas over the years. Kingman Drug later became the Walgreen Agency and the Gaddis became the Frontier Cafe. Next is the three-story Hotel Brunswick, built in 1909 and renovated to reopen in 1997. Lockwood's Café is in the Brunswick but moved shortly after this photo was taken. The two-story Hotel Beale (1901) is at right with the large sign on the roof. Andy Devine grew up in the Beale Hotel after his father purchased it in 1906. Front Street was renamed Andy Devine Avenue in 1955. The postcard was published for Desert Drugs by the Albertype Co., Brooklyn N.Y.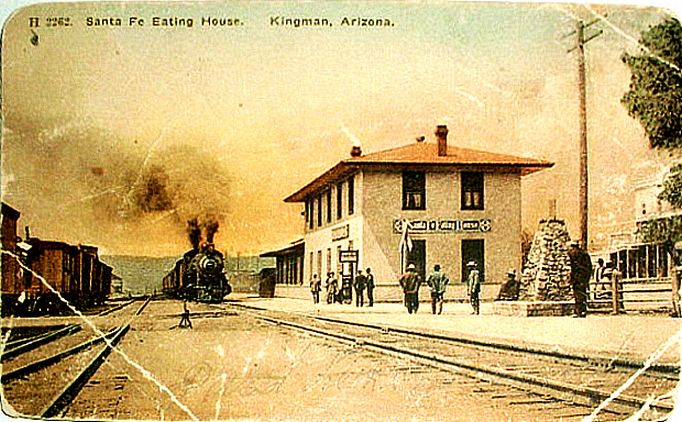 Harvey girls continued to serve hungry railroad passengers in Kingman until 1932. Fire destroyed the interior in 1952 and the structure was demolished soon after.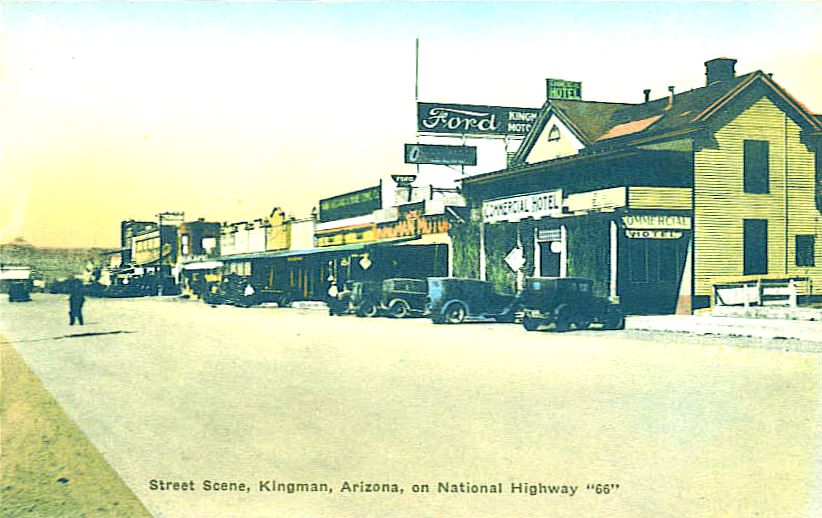 This view of Front Street, looking west, is from about 1928, just after the National Old Trails Road became Route 66. Businesses in the block between 5th and 4th Streets were, the Commercial Hotel, Taylor-Owens Motors Ford dealership, Tarr McComb & Ware Com'l. Co. hardware and mining supply (with green sign above), Citizens Utilities, The Popular Store, Stratton's Grocerteria, Lum Sing Yow's White House Café (1899) and finally, Keister's Kingman Drug Co. on the corner of 4th.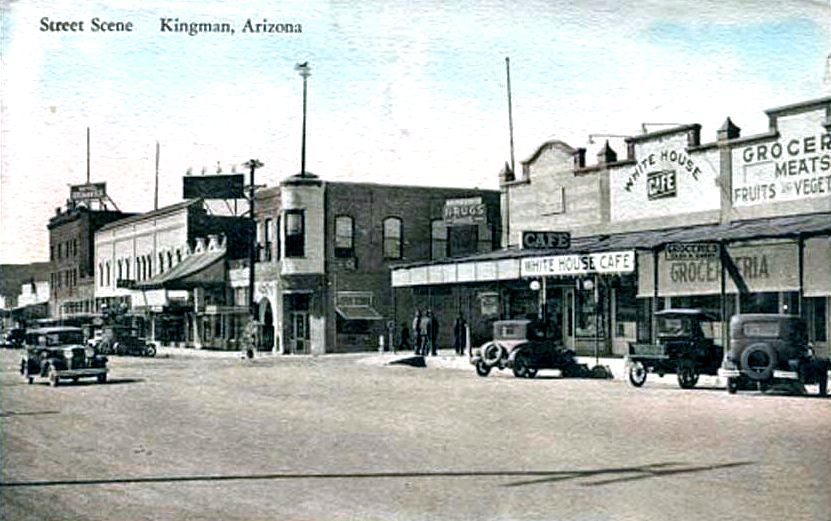 The intersection of Front and 4th Streets is depicted about 1930. To the west across 4th from Kingman Drug Co. is the former Lovin & Withers mercantile building with the round corner. Henry Lovin came to Kingman in 1893 and later served as Sheriff of Mohave County, County Supervisor, state senator and investor in the Gold Road mines. Lovin also owned an ice house, Coca-Cola bottling plant and several homes and cottages. The building was demolished in the 1950s.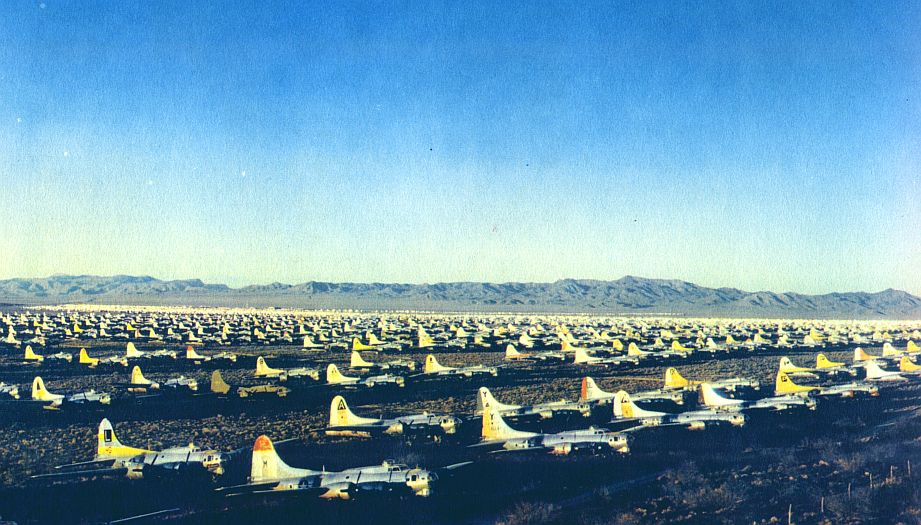 Some of the 5,400 B-17 Flying Fortresses awaiting salvage are seen in this view from 1947. Hundreds of B-24 and B-29 bombers and P-38 Lightning planes were also scrapped at Kingman. The storage area extended for six and a half miles along the Santa Fe railroad and Route 66 northeast of Kingman.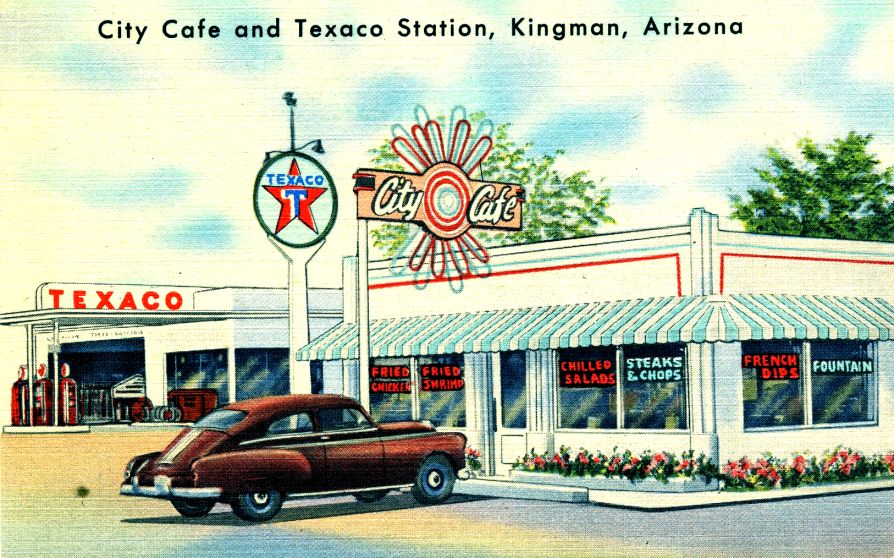 Ever since automobiles took to the road Kingman has been a convenient stop for gasoline, repairs, food and lodging. Mrs. Willie McCasland established the City Café on east Route 66 in 1945, next to a 24-hour Texaco station operated by Arlise Finch. Curteich of Chicago printed this C. T. Art-Colortone view in 1951.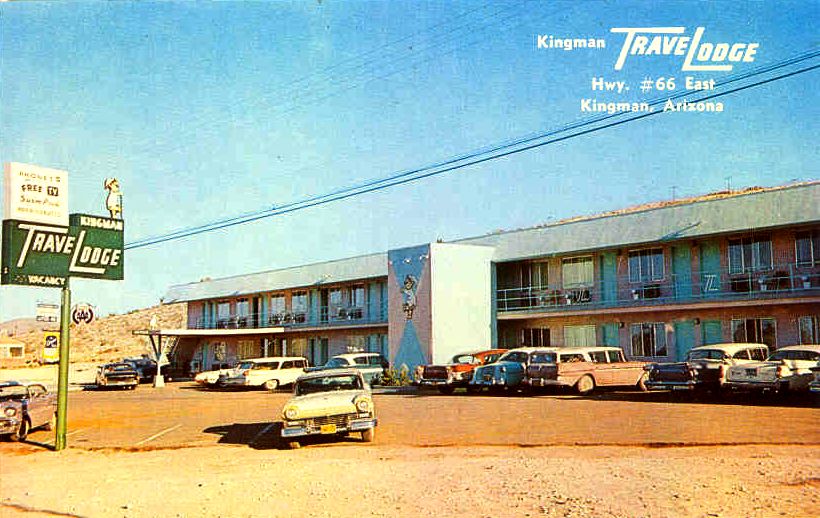 Nationwide chains began replacing locally owned motels in the 1950s when this postcard view of Kingman's TraveLodge was issued. At the time it offered 32 rooms cooled by refrigeration, with phones, free TV and a heated swimming pool. By 2007 it had expanded to 65 rooms with free continental breakfast and high-speed internet. Norm Mead in Tempe published the card, printed by Dexter Press in West Nyack, N. Y.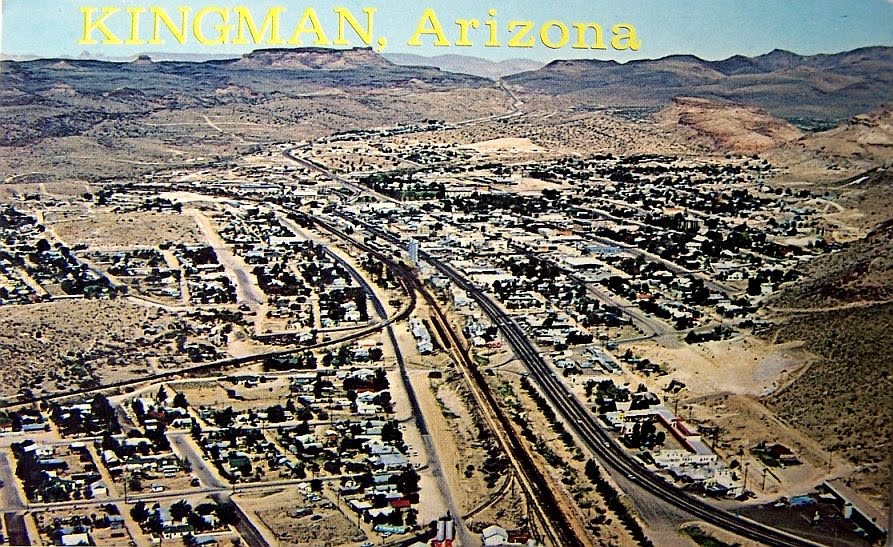 A Plastichrome postcard by Petley Studios of Phoenix from around 1965 shows the setting, looking west, surrounded on three sides by foothills. You can see the railroad as it curves through town toward the south and McConnico in the Sacramento Valley. The four-lane highway parallel with the railroad is Route 66, or Andy Devine Avenue. At the lower right corner, Route 66 is turning north to pass by the former site of the airbase and storage depot. Highway 93 is heading through the Cerbat range toward Hoover Dam in upper center. (source: https://arizona100.wordpress.com/2010/06/05/110/ )
A fantastic walking tour of this area was created by Jim Hinckley. Follow the link below to be redirected to it.
Kingman's Walking Tour (By Jim Hinkley)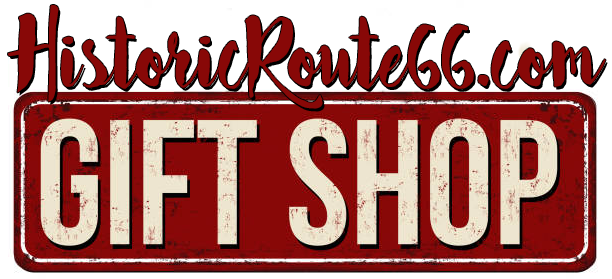 Proceeds from our gift shop help with the expenses of maintaining the website. Thank you for taking the time to look around.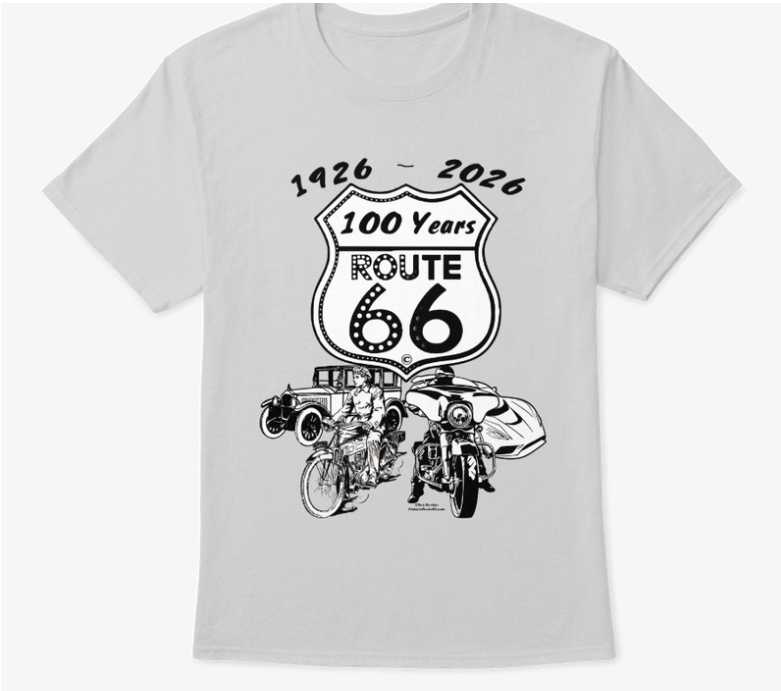 ***Links provided on this site to Chambers Of Commerce, Route 66 Historical Associations, Visitor Centers, Points Of Interests, etc are provided for your reference and convenience only. They are not affiliated with this site in any way, unless otherwise noted. This site is independently owned, operated and funded as a community service by Rob Borden, the Saddle Sore Ranch, and thru any donations we receive. Donations can be made via PayPal to LiveFromSSR@gmail.com or via Venmo to @SaddleSoreRanch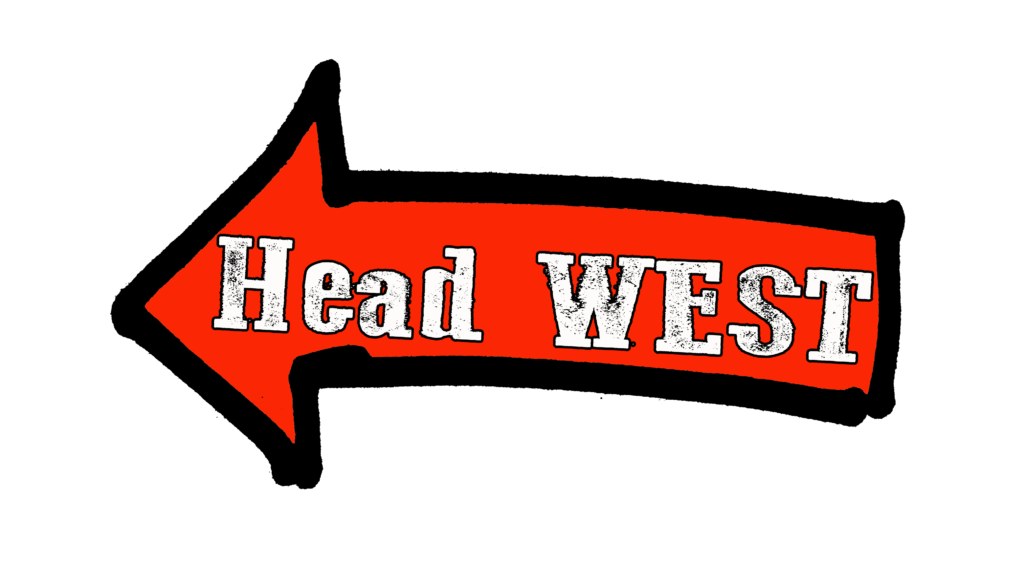 Click the map image below to open Google Maps of this area.