Lupton – Houck – Sanders – Chambers – Petrified Forest / Painted Desert – Holbrook – Joseph City – Winslow – Meteor City – Meteor Crater – Winona – Flagstaff – Bellemont – Williams – Ash Fork – Seligman – Grand Canyon Caverns – Peach Springs – Truxton – Crozier – Valentine – Hackberry – Antares – Kingman – Golden Valley – Oatman – Golden Shores – Topock
Tap above to listen to an audio narration of this station's content.
Oatman Drug Building – Walsh Building – Lower School House – Oatman Drug Building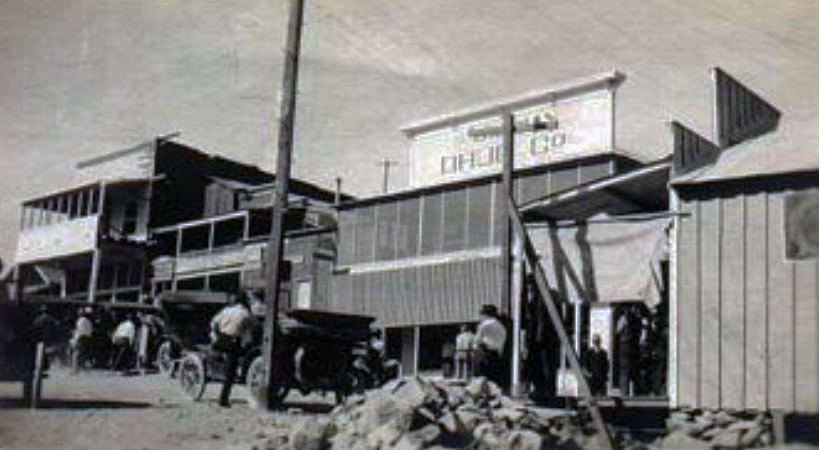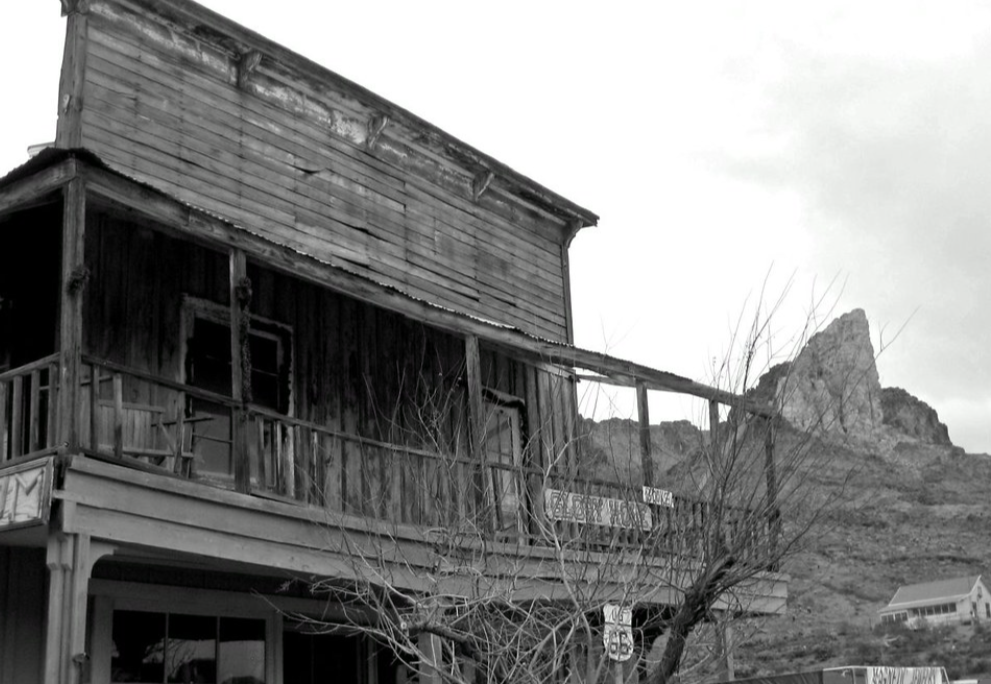 This 120' X 30' two story building was built in 1915 by M.H. Force. Aswell as home to a number of "ghosts", it has housed many businesses since, including The Glory Hole, A museum, The Oatman Drug Company, stock exchange, doctor and dentist practices,, lawyer's offices, Arizona Central Bank, (including a vault), and The Health Club, which consisted of a saloon and dance floor. The building was in several Hollywood movies, Foxfire (1955), Edge of Eternity, (1959) and How the West Was Won, (1961). This building was entered into the Registry of Historic Sites on April 06, 2004.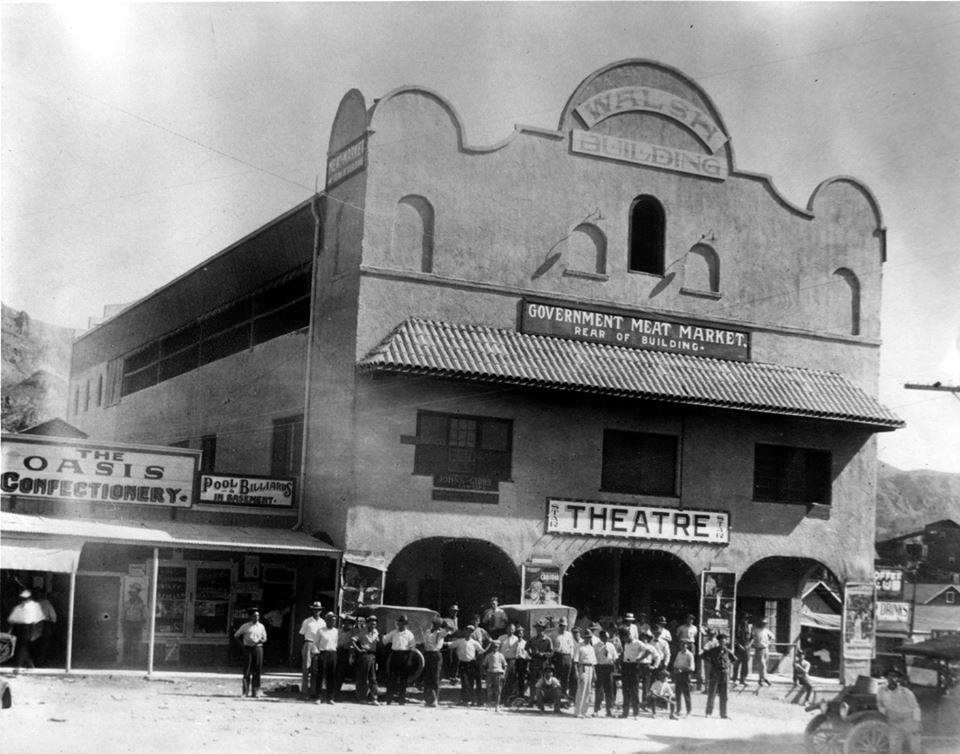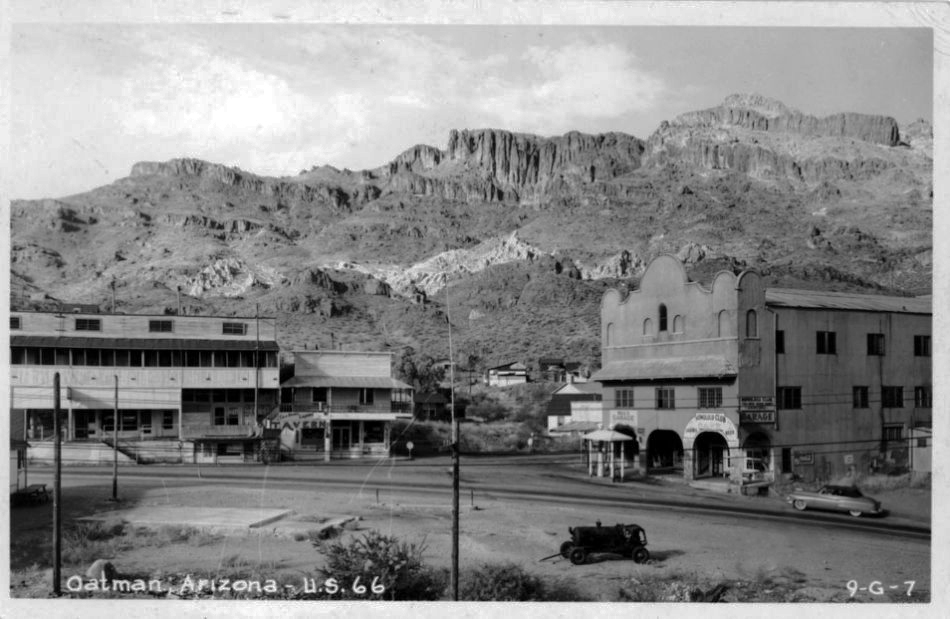 The Walsh Building was built in about 1915. It was the Desert Inn and The Honolulu Club before it was torn down. It was in the location where New Diggins sits today. You can see the remnants of the basement of the old structure behind New Diggins.
There was a theater in the Desert Inn and an outdoor dance pavilion where live theater was sometimes performed. The Desert Inn was known for having the best parties, events and entertainment and people traveled from miles away to attend.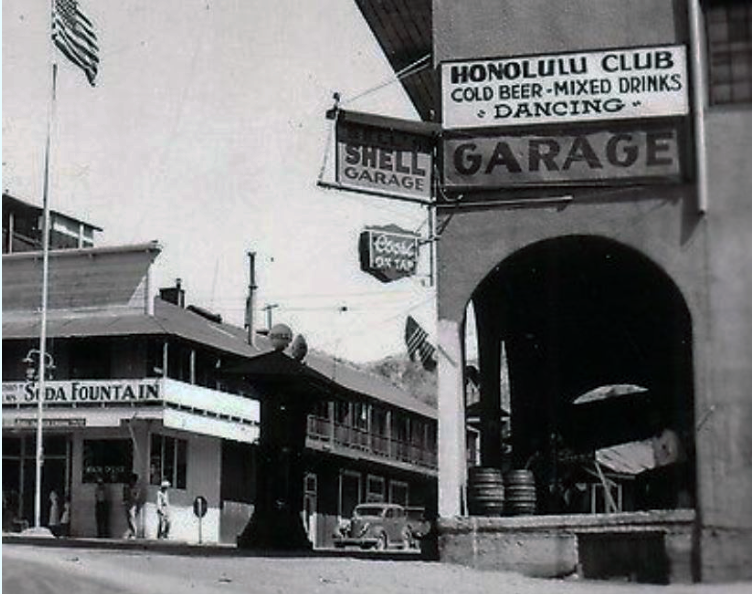 The Honolulu Club, cira 1930's, had a dance floor upstairs that was also used for roller skating. It was a gas station, garage and saloon. The business was closed in about 1950 and the business moved to Yucca AZ.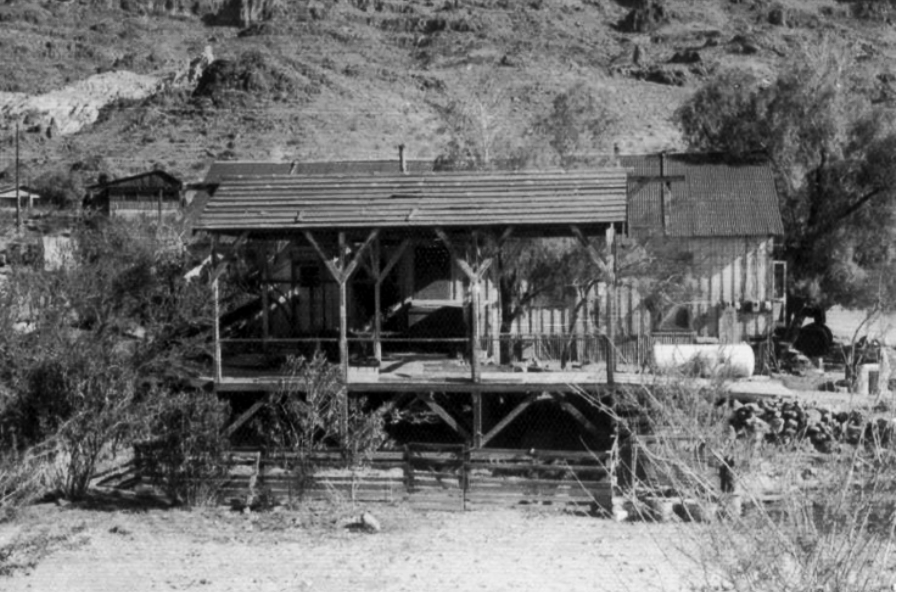 Lower School House was in the movie "How The West Was Won" in 1961. According to its current owner it was closed as a school in 1918 and was used as a hospital during the Spanish flu epidemic of 1918. In more recent years it has been a private residence.
"OATMAN SCAVENGER HUNT" – Take a photo of yourself in front of any of the spots mentioned in this tour (or what is currently standing there), and email them to tailingsoftime@gmail.com and we will post them on our sites. Thank you for visiting and learning about our town.
***The "Historic Oatman Walking Tour" was created for the town of Oatman, by Rob Borden, founder of the Saddle Sore Ranch (aka "SSR"), and commissioned by the Oatman Gold Road Chamber. Content contributions were made by the Oatman Chamber of Commerce, Oatman Tailings Of Time Historical Society, Leanne Toohey, Oatman residents and other historic contributors. The Saddle Sore Ranch is located just 12 miles east of Oatman, at milepost 36.5 on Historic Route 66. For more information, visit us online at www.SaddleSoreRanch.com, or email us at LiveFromSSR@gmail.com ***