Lupton – Houck – Sanders – Chambers – Petrified Forest / Painted Desert – Holbrook – Joseph City – Winslow – Meteor City – Meteor Crater – Winona – Flagstaff – Bellemont – Williams – Ash Fork – Seligman – Grand Canyon Caverns – Peach Springs – Truxton – Crozier – Valentine – Hackberry – Antares – Kingman – Golden Valley – Oatman – Golden Shores – Topock
Tap above to listen to an audio narration of this station's content.
Mining in Oatman (by Greg Carson) – Arizona Hotel Lot – Fast Fanny's – Bucktooth Burro – Burro Flats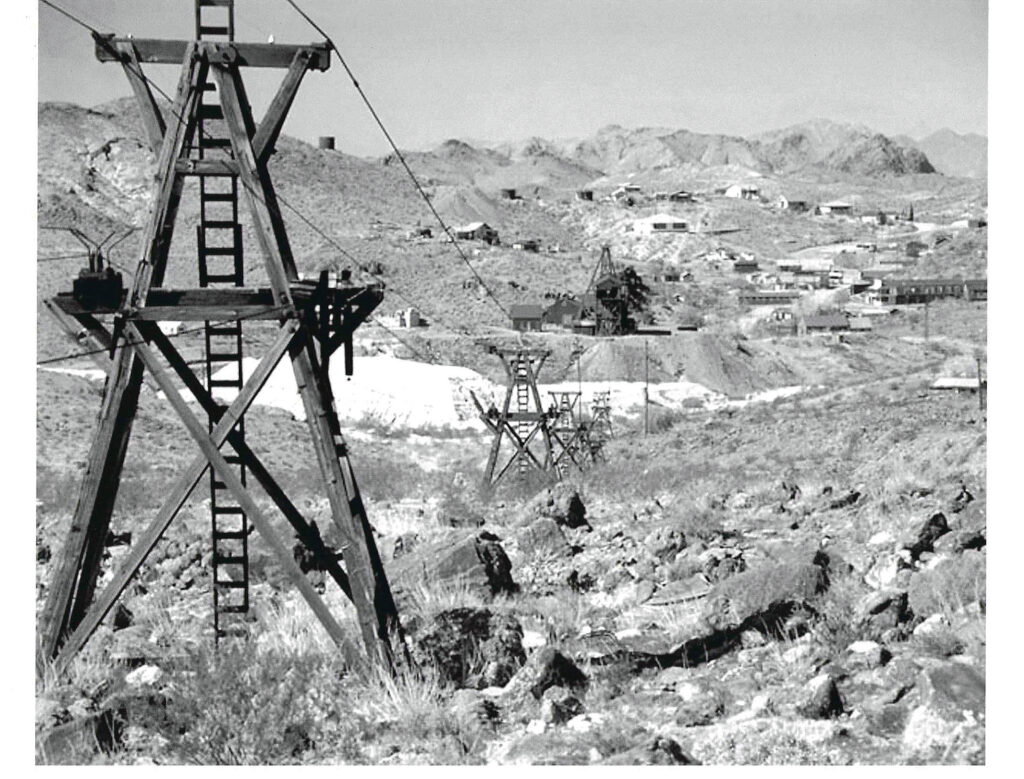 Oatman began as a gold mining camp. The Tom Reed, United Eastern and Big Jim were the 3 largest producing mines but there were also dozens of small operations. Between 1870 and 1980 the Oatman Mining District produced more than one million ounces of silver and two million ounces of gold.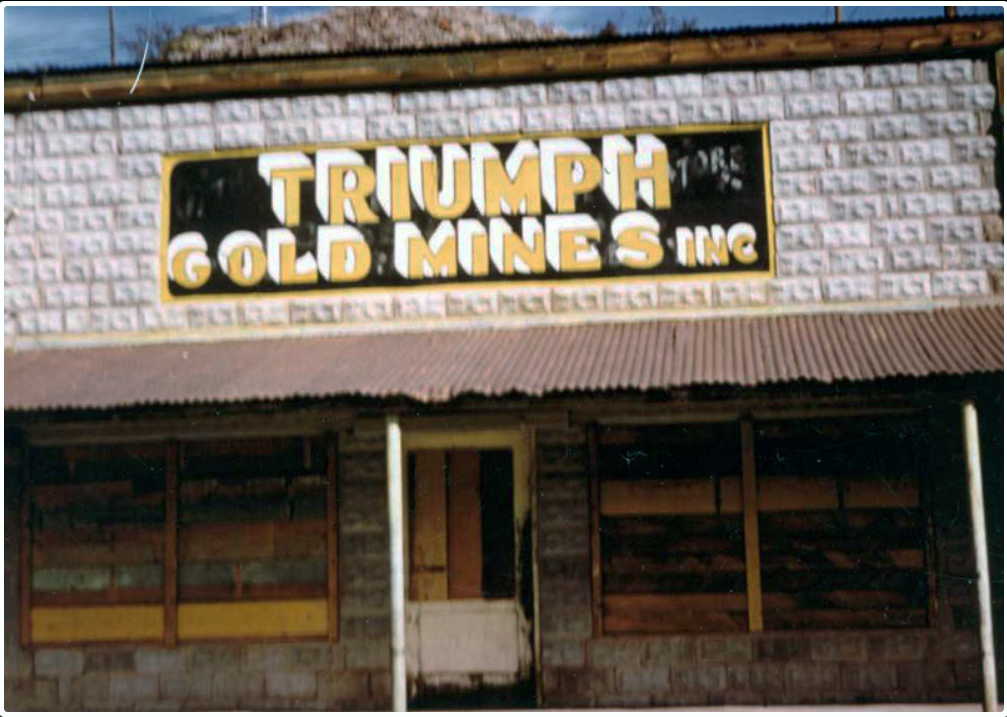 Synopsis of Mining History of Oatman by Greg Carson:
"In 1863, prospector Johnny Moss discovered gold in the Black Mountains and stakes several claims. By 1931 over 1.8 million ounces of gold was produced. Finally, by 1942 all mining was ordered to stop due to WW2. Northern Vertex currently owns Moss Mine and is the largest gold and silver mining operation in Arizona just outside of Oatman".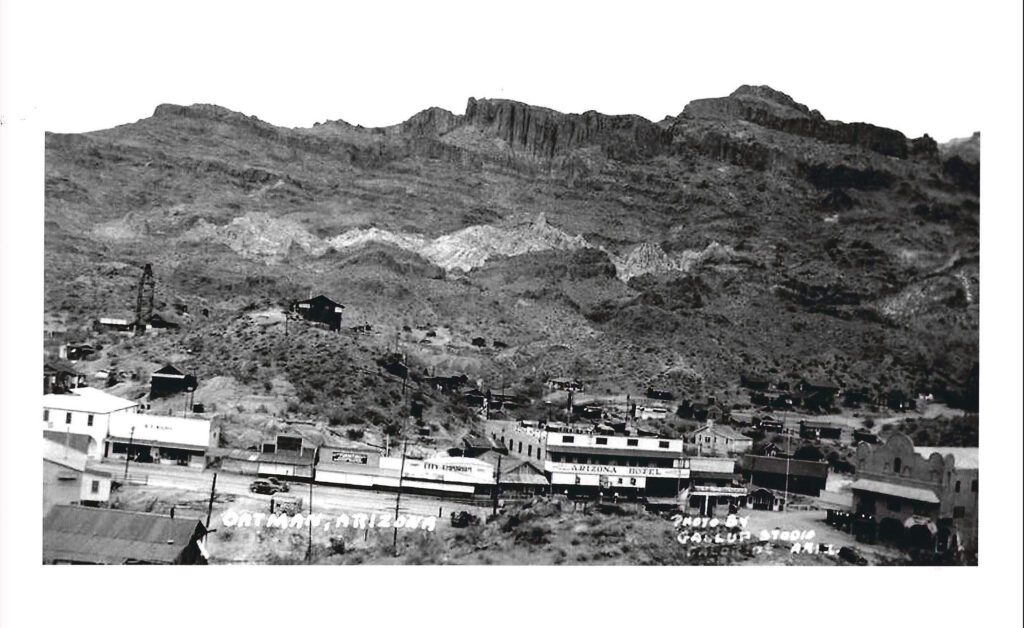 Arizona Hotel: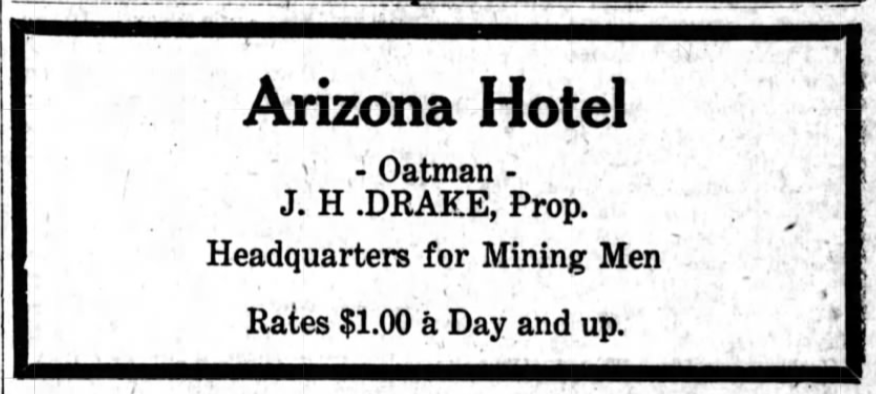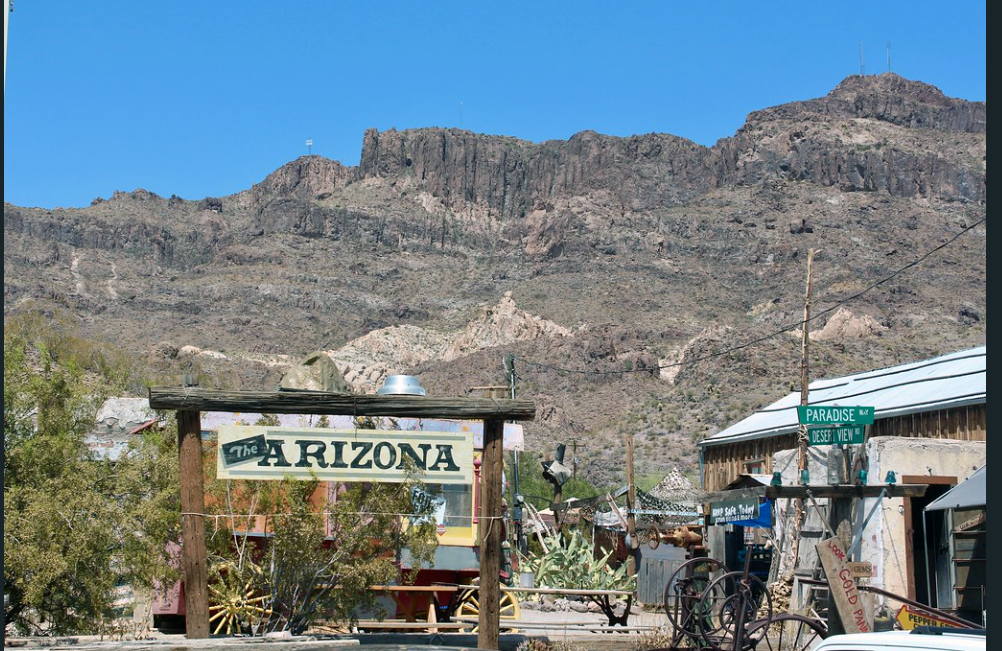 On this lot stood a large hotel building called the Arizona. It stood from approximately 1915 through the 1950's. As well as being a hotel, there were some professional offices in the building.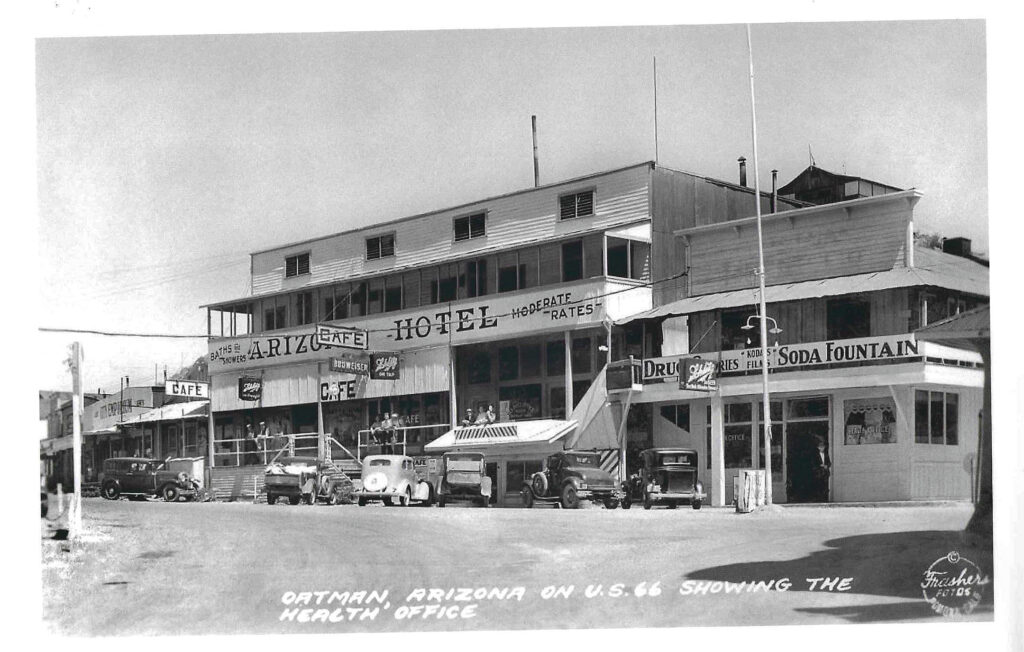 The building was removed in the 1950's to alleviate a tax situation and the materials were sold to a contractor for use in Downtown Las Vegas development.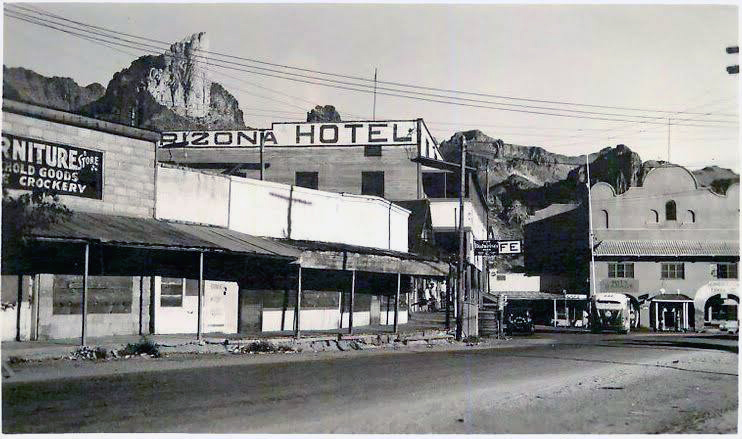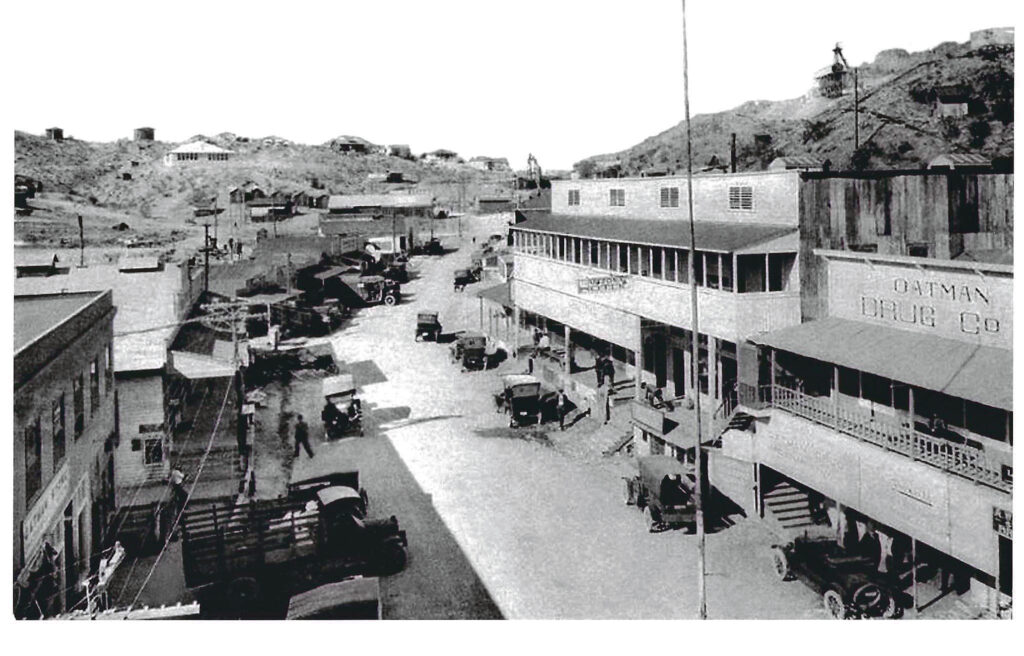 In 2017 a Historical Marker was placed at the site by the Lost Dutchman Chapter of the E. Clampus Vitus. Currently you will find a few shops, a number of artifacts from the boom town mining days as well as a "Mine Museum" that has been created in what was originally the cold storage area for the Arizona Hotel.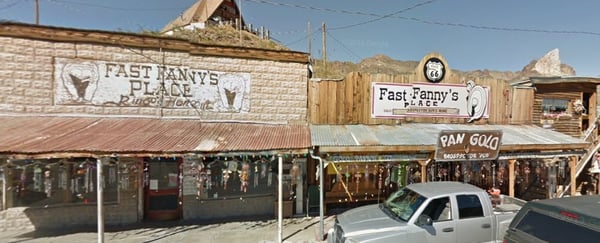 The photo above shows the original location of Fast Fanny's
on the left, and the new location on the right.
Fast Fanny's location was previously a bar and restaurant called "The Little Brown Jug " and was a hot spot for locals after the visitors were gone home from the 1950's through the early 1980's. There was a secret underground gambling den that was used until the 1940's. Before then it has been a gift shop, artist's studio and originally a grocery store.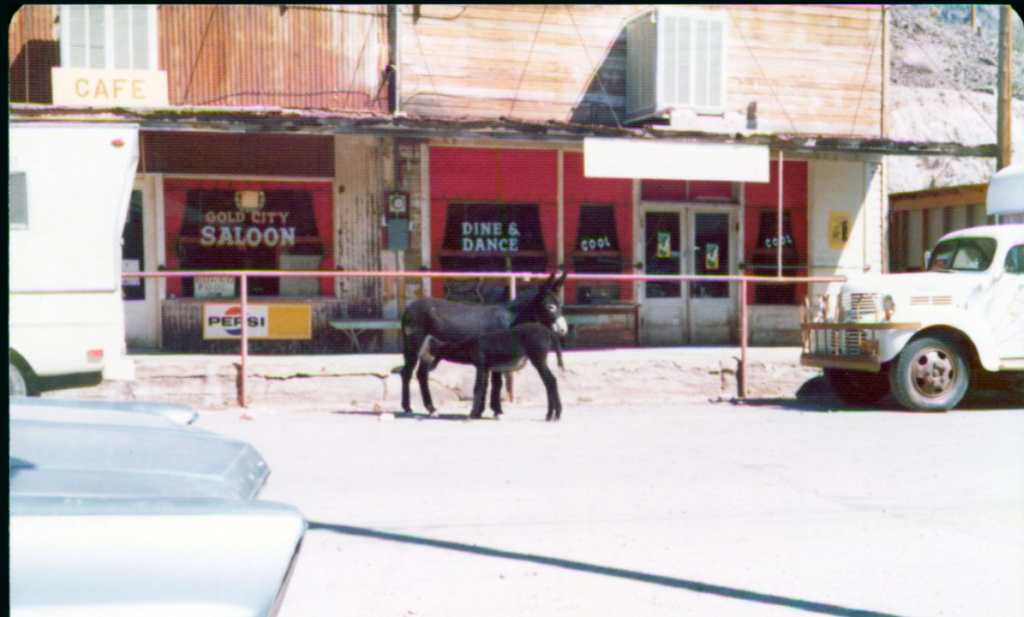 To the left of Fast Fanny's is now the "Bucktooth Burro" shop, formerly Fast Fanny's (original location). It appeared in the movie, "How the West Was Won" as "The Gold City Saloon". Originally the building was the office for the Triumph Mining Company.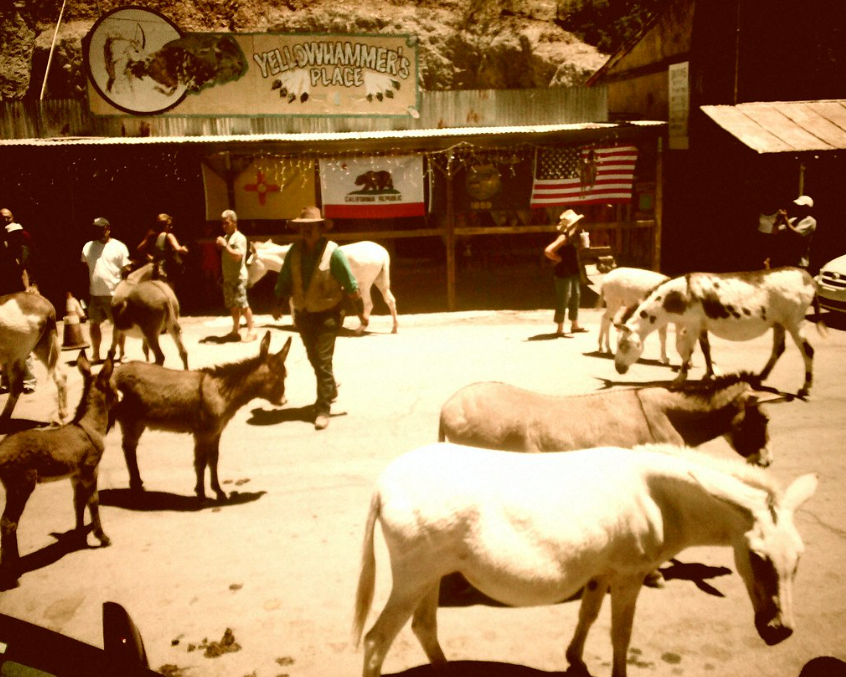 "Burro Flats", the shop to the left of Bucktooth Burro, was Yellowhammer's Place for many years. It is on the location that Oatman Storage and Warehouse was once situated.
"OATMAN SCAVENGER HUNT" – Take a photo of yourself in front of any of the spots mentioned in this tour (or what is currently standing there), and email them to tailingsoftime@gmail.com and we will post them on our sites. Thank you for visiting and learning about our town.
***The "Historic Oatman Walking Tour" was created for the town of Oatman, by Rob Borden, founder of the Saddle Sore Ranch (aka "SSR"), and commissioned by the Oatman Gold Road Chamber. Content contributions were made by the Oatman Chamber of Commerce, Oatman Tailings Of Time Historical Society, Leanne Toohey, Oatman residents and other historic contributors. The Saddle Sore Ranch is located just 12 miles east of Oatman, at milepost 36.5 on Historic Route 66. For more information, visit us online at www.SaddleSoreRanch.com, or email us at LiveFromSSR@gmail.com ***