Lupton – Houck – Sanders – Chambers – Petrified Forest / Painted Desert – Holbrook – Joseph City – Winslow – Meteor City – Meteor Crater – Winona – Flagstaff – Bellemont – Williams – Ash Fork – Seligman – Grand Canyon Caverns – Peach Springs – Truxton – Crozier – Valentine – Hackberry – Antares – Kingman – Golden Valley – Oatman – Golden Shores – Topock
Tap above to listen to an audio narration of this station's content.
Oatman Hotel, The General Store, & The Gold Dollar
"We invite you to take a step back in time to visit the living relic of the early mining town of Oatman. Most of the buildings are original and little has been done to destroy the atmosphere of the historical old town. Wild burros freely roam the streets looking for the handouts from the passerby." (From The self-guided tour through Oatman Arizona by the Chamber of Commerce brochure.)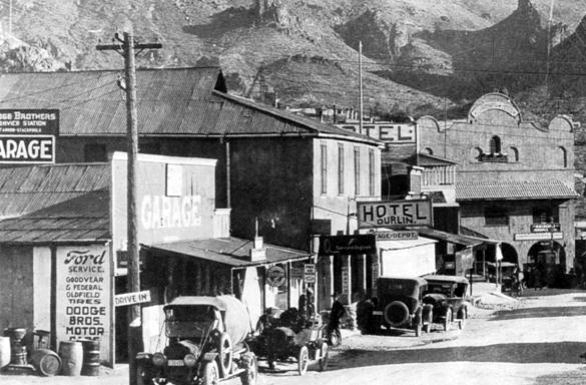 Originally, the Oatman Hotel was the "Durlin Hotel" and is the only historic two-story adobe building in Mohave County. It was named after the builder, John Durlin and was built in 1902, however was rebuilt in 1924 after the fire of 1921. In 1993 it was listed on the National Register of historic places.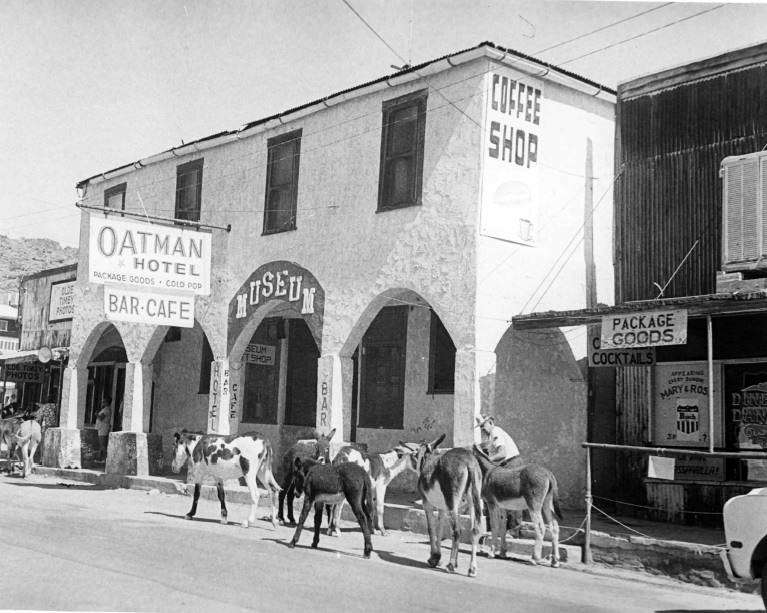 The Hotel had 8 rooms and underwent several name changes over the years, The Hotel Durlin, The Hotel Everett, The Ox-Yoke Hotel and finally The Oatman Hotel. The hotel no longer has overnight accommodation but is now a restaurant and bar with an Ice cream shop in the lobby and a museum upstairs.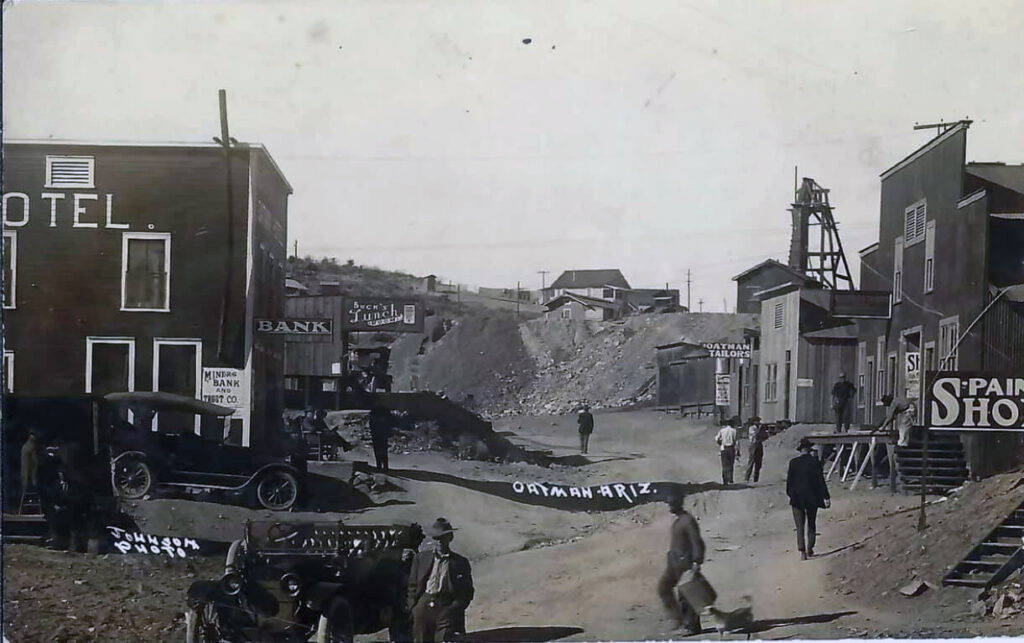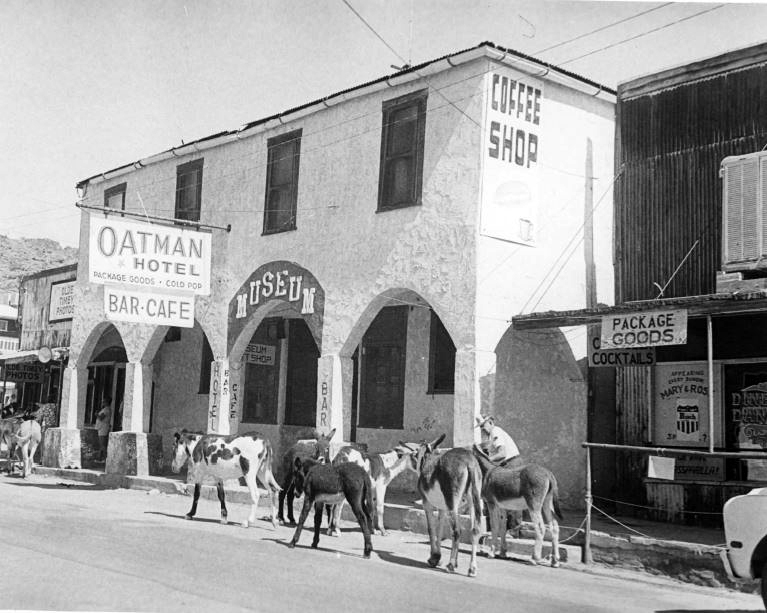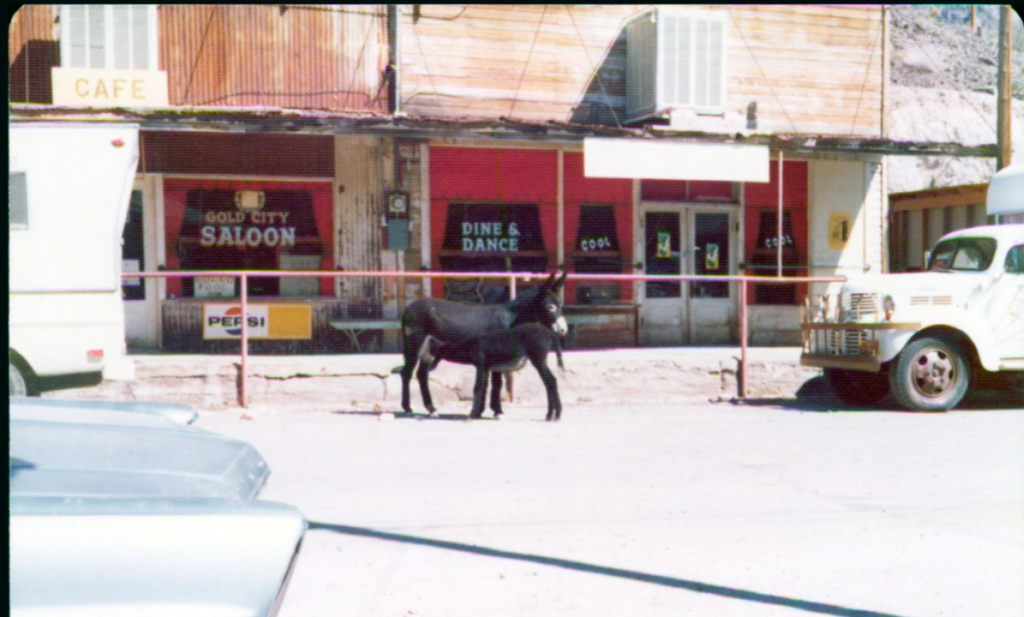 A friendly ghost named Oatie is known to occupy the hotel and is believed to be the ghost of William Ray Flour, an Irish Miner who died behind the hotel. There are tales of other ghosts that inhabit the hotel as well as many of the buildings on Main Street in Oatman.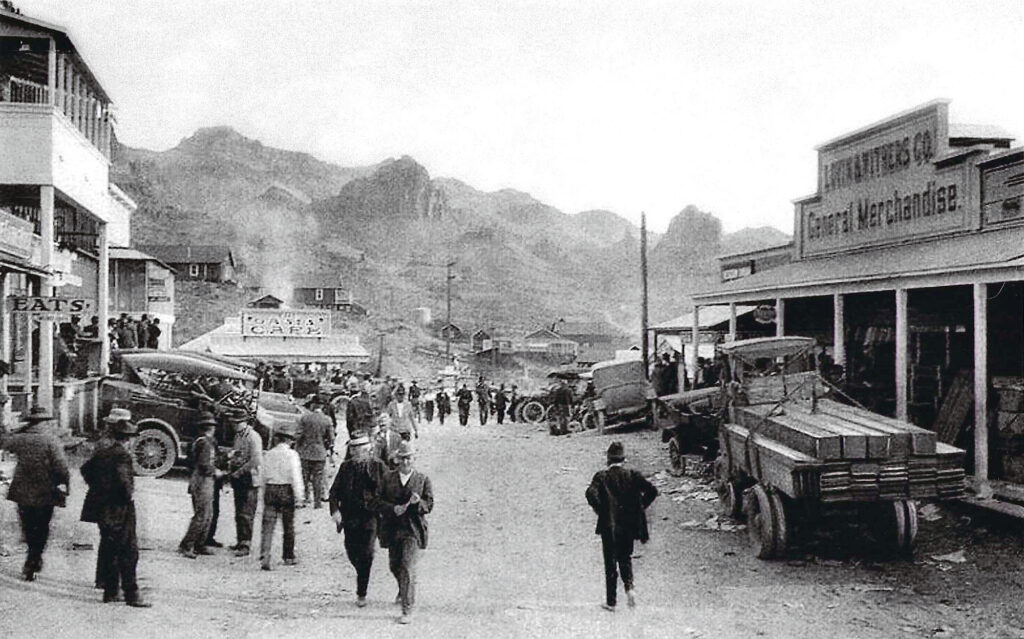 Across the street you will see the General Store. It was the site of Levin and Withers Grocery and Mercantile store and a bank. Some records show that it was rebuilt after a fire in the 1920's.
Next door to the General Store is now a tiny jeweler's shop with a red door. That was known as the Gold Dollar and was at one time a bakery.
"OATMAN SCAVENGER HUNT" – Take a photo of yourself in front of any of the spots mentioned in this tour (or what is currently standing there), and email them to tailingsoftime@gmail.com and we will post them on our sites. Thank you for visiting and learning about our town.
***The "Historic Oatman Walking Tour" was created for the town of Oatman, by Rob Borden, founder of the Saddle Sore Ranch (aka "SSR"), and commissioned by the Oatman Gold Road Chamber. Content contributions were made by the Oatman Chamber of Commerce, Oatman Tailings Of Time Historical Society, Leanne Toohey, Oatman residents and other historic contributors. The Saddle Sore Ranch is located just 12 miles east of Oatman, at milepost 36.5 on Historic Route 66. For more information, visit us online at www.SaddleSoreRanch.com, or email us at LiveFromSSR@gmail.com ***