We are currently undergoing regularly scheduled maintenance. Please check back soon.
IN ORDER FROM EAST TO WEST
Lupton, AZ – Houck, AZ – Sanders, AZ – Chambers, AZ – Petrified Forest / Painted Desert – Holbrook, AZ – Joseph City, AZ – Winslow, AZ – Meteor City, AZ – Meteor Crater – Winona, AZ – Flagstaff, AZ – Bellemont, AZ – Williams, AZ – Ash Fork, AZ – Seligman, AZ – Grand Canyon Caverns – Peach Springs, AZ – Truxton, AZ – Crozier, AZ – Valentine, AZ – Hackberry, AZ – Antares, AZ – Kingman, AZ – Golden Valley, AZ – Saddle Sore Ranch – Oatman, AZ – Golden Shores, AZ – Topock, AZ

HistoricRoute66.com is a community preservation project, created by Rob Borden, founder of the Saddle Sore Ranch (near Oatman, AZ), and Route 66 Bike Week. It focuses mainly on the route, as it passes thru Arizona. Although we may include some other areas as well.
"U.S. Route 66 or U.S. Highway 66 (US 66 or Route 66), also known as the Will Rogers Highway, the Main Street of America or the Mother Road, was one of the original highways in the U.S. Highway System. US 66 was established on November 11, 1926, with road signs erected the following year. The highway, which became one of the most famous roads in the United States, originally ran from Chicago, Illinois, through Missouri, Kansas, Oklahoma, Texas, New Mexico, and Arizona before terminating in Santa Monica in Los Angeles County, California, covering a total of 2,448 miles (3,940 km)". (Source: Wikipedia)
Today, the remains of the Mother Road are scattered over several alignments of the road. Some segments are no longer accessible, some lay forgotten, and some have been reclaimed by Mother Nature… How is that for irony?

Here at HistoricRoute66.com we are on a mission. We like to call it #Saving66. As much as we would love to preserve the road itself, and will take every opportunity we get to do so, we also aim to help preserve the culture, the nostalgia and the people that make Route 66 so special. We do this by promoting travel and tourism on Route 66, small businesses along the route, promoting Route 66 events, and hosting a few of our own events that are structured to get participants to stop into the small businesses along the way and support them.
We hope you will join us as we embark on this adventure, and be a part of #Saving66. We have created a couple of "adventures" to help you do so. Please visit www.Route66BikeWeek.com to learn more.
Take a moment to check out the main events below: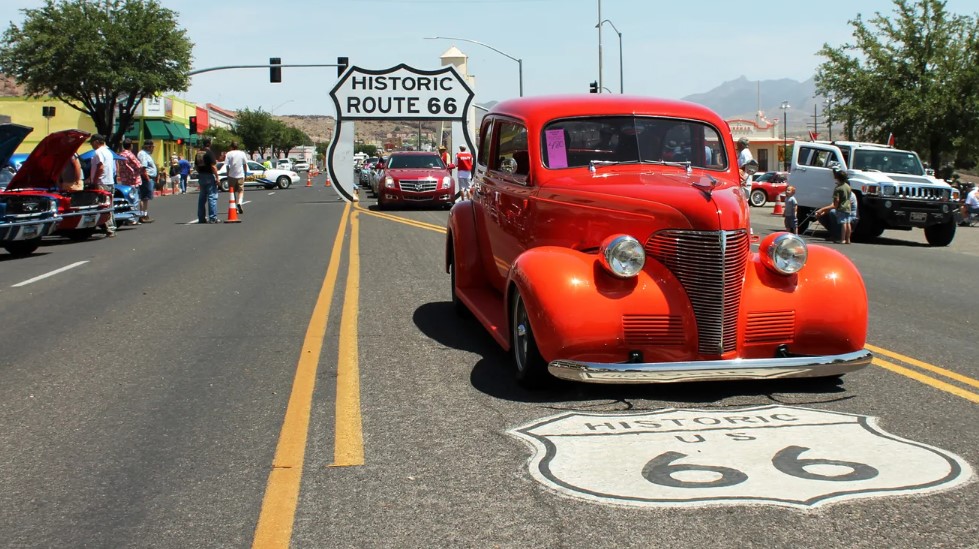 ROUTE 66 FUN RUN
"The annual Fun Run fundraiser traces it's roots to early 1987 – when 15 individuals embarked on an ambitious journey to champion the rebirth of Route 66. This collaboration lead to the formation of the Historic Route 66 Association of Arizona. Recognizing capital as a vital component of their work and the absolute importance of community, the Association got creative and the Annual Historic Route 66 Fun Run was born.​ That following the spring, the First Annual Historic Route 66 Fun Run attracted the 152 entrants! The governor of Arizona, Rose Mofford, cut the ceremonial ribbons, Will Rogers, Jr. participated as the first Grand Marshal, and the Delgadillo's band headlined the event – it was a blast!
​Today, the experience has become a tradition. It's continued success has allowed the Association to aggressively pursue it's mission for the preservation, protection, and promotion of the Mother Road. In many ways, it embodies all that we love of Route 66 – family, community, cars, and Americana." (source: Historic Route 66 Association of Arizona)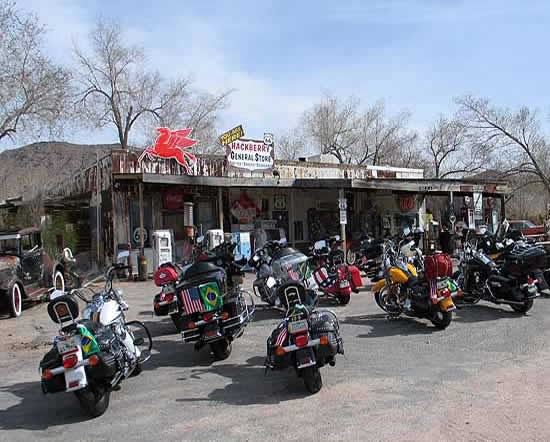 ROUTE 66 BIKE WEEK
Every year, on the fourth weekend in April, riders hit the Mother Road to take part in the largest "Rolling Rally" in the country. Founded in 2021, and headquartered in Arizona, this rally is similar to the "Fun Run", but for motorcyclists. Unlike other motorcycle rallies that are mostly stationary, or confined to a single area or town, Route 66 Bike Week stretches the entire length of the Mother Road as it traverses the state of Arizona. Some participants will even continue on thru neighboring states, and immerse themselves in even more of Route 66. You can start and stop wherever you want. Choose your own route, direction and destinations daily. Registered participants receive a Rally Tshirt, a VIP wristband, all rally maps, points of interest, instructions and other rally materials for digital download. Tickets, and more info are available at www.Route66BikeWeek.com